Limestone Crusher rotor &  Limestone  Crusher Belt  Maintenance
Crusher rotor
1- The bearings condition of the drive shaft is very bad.
2- There is a sever wear in the crusher rotor.
3- There is a missed lining plate in the crusher cover.
4- There is high wear in the crusher hummers.
Recommendation:
1- Replace the bearings of the drive shaft.
2- Repair the worn out rotor by welding.
3- Erect the missed lining in the crusher cover.
4- Repair the worn out hummers by welding.
Action has been taken:
1- The worn out rotor has been repaired by welding electrodes 7018.
Crusher Belt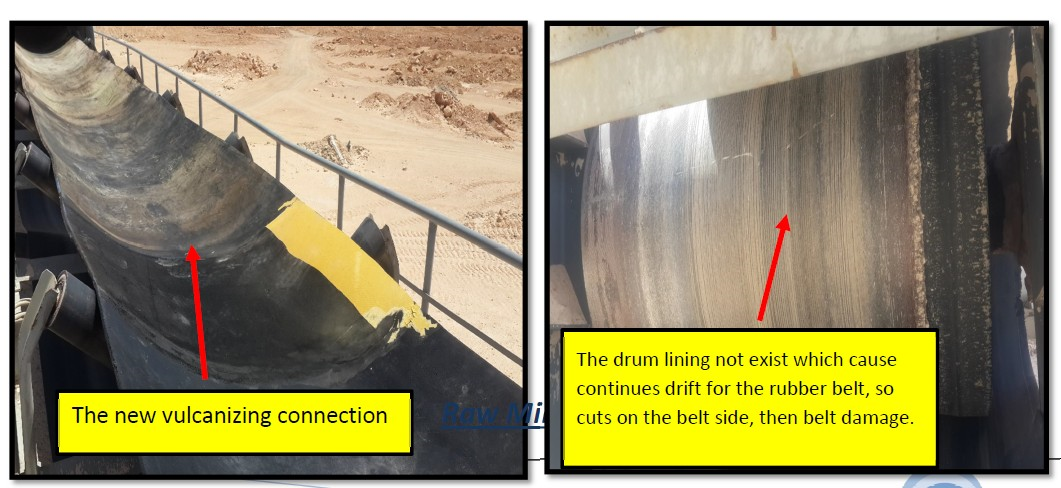 1- The belt conveyor has many defected parts and cut off wires.
2- There are 2 defected vulcanizing connections.
3- There is steel cord wire separated from the middle of belt with length 400m.
4- All drums lining have a sever wear.
Recommendation:
1- Replace the belt conveyor.
2- If the belt conveyor will not be replaced completely, at least the most
defected part on the rubber belt with length 250 m should be replaced.
3- Repair all cut off parts in the middle of the rubber belt.
4- Cover the position of the separated steel wire with a vulcanizing tape.
5- Replace all worn out drums lining due to sever wear and to save the new belt
from contacting with the roller support, so it will cause.
Action has been taken
1- The most defected parts in the belt conveyor have been replaced 190 m.
2- Two cut off part has been repaired