MOST IMPORTANT BOOKS IN CEMENT INDUSTRY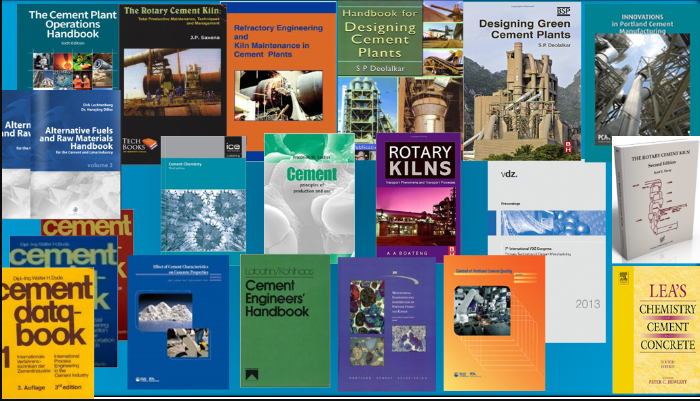 OWNING AND READING THE BELOW LIST IS ESSENTIAL FOR ANY ONE INVOLVED IN CEMENT INDUSTRY
YOU CAN DOWNLOAD ALL THE BOOKS FOR ONLY 35 USD , OR CHOOSE ANY ONE AND DOWNLOAD IT FOR 10 USD ONLY.
1- Cement-data-book
 by Walter H. Duda : Rather than a book it is a small encyclopaedia consisting of 3 volumes, covering much of the equipment and processes in the cement industry.
2- The Rotary Cement Kiln   
If you want to learn the basic principles of operation of a cement kiln, this is the book you should read. It is an excellent base for the training of the kiln operators, supervisors and production or process managers. It emphasizes what he calls the 27 kiln basic conditions. It includes a test to assess your learning of the book.
5- Handbook for Designing Cement Plants
It covers almost all aspects of the design of a cement plant: machinery, lay-out, construction, electrical installation, economic feasibility studies, etc.
6- Cement Engineer's Handbook
This book has a very well gained reputation and frequently is known just as "Labahn". Is a very thorough handbook covering all the cement plant areas from quarry to packing plant, it explains subjects that sometimes are overlooked for example: silos, maintenance, lubrication, automation, storage, handling and feeding systems.
7- The Cement Plant Operations Handbook
by Philip A Alsop. – One of the most complete books that can be found about Dry Process Cement Plant, covering the main aspects of it, from grinding to packaging. It shares relevant data of the equipment and its operation criteria.
8- My personal folder that contain the most important Excel sheets covering every Process in the cement industry 
1- you will get all my Excel sheets which cover heat balance , raw mix design , …. ETC
2- you will get all my notes and equations I collected from working with HOlcim , ASEC , FLS , … ETC
the Last item in the list really worth thousands of Dollars but I provide them very cheap because I like to spread the Knowledge.
IF YOU NEED ALL THESE EXTREMELY IMPORTANT MATERIALS PLEASE
PAYNOW
OR SEND EMAIL TO : project20062015@gmail.com